17 May 2018
A Strategic Action Plan for Batteries that supports the measures proposed by the EBA250 stakeholders was published as part of the Clean Mobility Package in May 2018. The Clean Mobility Package is a set of initiatives initiated by the European Commission to allow all Europeans to benefit from safer traffic, less polluting vehicles and more advanced technological solutions, while supporting the competitiveness of the EU industry.
23 February 2018
18 high priority actions resulting from the EBA250 stakeholder consultation process were presented at Clean Energy Industrial Forum, during the European Industry Day in February 2018.The EU Industry Day is a forum for key industrial players and EU political leaders and policy makers where to discuss on a joint vision for the long-term future of European industry.
11 October 2017
The European Battery Alliance (EBA) was officially launched in October 2017 by Vice President Šefčovič with the aim to create a competitive manufacturing value chain in Europe with sustainable battery cells at its core.
THE VALUE CHAIN APPROACH
The value chain approach is usually not the norm in mature industries. However, for fast developing new industries this approach is essential.
To acquire the batteries needed, you have to ensure that the batteries are being manufactured. For this, battery cells must be produced. Raw materials must be made available. And finally, for the market to accept your product – you must have a recycling process in place.
The goal of the European Battery Alliance is to ensure an unbroken value chain in Europe that can supply the market with all it needs, with the lowest environmental footprint possible.
Make Europe

the global leader in sustainable battery technology:
4a. Develop a standardized EU life cycle assessment scheme, with targets of environmental and social footprint including guidelines for the calculation thereof
4b. Define and implement certification/labelling of batteries made in Europe. Use the declaration as a tool in trade agreements / tax treatment with non-EU battery providers
4c. Reduce carbon footprint of advanced battery materials making and cell manufacturing by securing access to increasing supply of renewable Energy
4d. Develop a standardized life cycle assessment for all transport technologies
5a. Invest in R&D and pilot plants to take the technology lead in primary
and secondary raw materials processing
5b. Establish a clearing house for battery recycling
5c. Strengthen all currently existing battery collection systems
Create and support

new markets for batteries, e.g through the "Clean Energy" & the "Mobility" packages but also new initiatives, in order to support sustainable solutions for power, transportation and industry sectors in line with EU climate goals.
9a. Set clear targets, requirements and incentives for the installation of recharging infrastructure for buildings and publicly accessible areas (urban areas and public roads as well as along freeways).
9b. Define and implement a consistent incentivizing framework for the uptake of the EV market (e.g. emission standards for "yellow machines", promotion schemes for ZEV sales, public procurement targets for clean vehicles including public transport, tax and "soft" incentives such as use of public lanes and free parking).
9c. Implement favorable tax incentives for e-taxi operators e.g. special VAT schemes.
10a. Develop a power market design that enables the integration of ESS (including EV batteries through vehicle to grid) allowing ESS and EV batteries to support the power system management with high penetration of EV charging. Battery based actors/systems shall be able to participate in all parts of the power market and network tariff shall not penalize storage while driving electrification (capacity based + Time-of-use, with no charges for producers).
10b. Establish a transparent data hub for use data for e-vehicles (similar to best practice data for hub metering data of electricity customer).
11a. Integrate battery storage options and V2G in grid planning and resource planning (addressing security of supply).
12a. Develop standardized interoperability interfaces allowing seamless secure integration of battery management systems of ESS and EVs and bi-directional communication with aggregation platforms or Energy markets. Evolution of digitized innovative energy services shall be enabled.
Involve
(= inform, educate & motivate)

the EU citizens in the journey.
17a. Involve Industry + Citizens + Policy makers on Use patterns / Re-use & Sustainability
17b. Highlight importance of batteries as a means to meet decarbonization goals in power and transport.
17c. Safeguard non-discriminatory access for consumers to energy service providers including charging services
OUR STAKEHOLDERS
The European Battery Alliance is made up of a number of organisations from both the public and private sector. All in all more than 120 entities work together.
RAW MATERIALS
- Boliden
- EUROMINES
- Eramet
- Leading Edge Materials
- Magnis /Allocate
- Outotec
- Rio Tinto
- Terrafame
ACTIVE MATERIALS
- Arkema
- BASF
- BELENOS
- Blue Solutions (Bolloré)
- CEFIC
- Heraeus
- Nanomakers
- NXP Semiconductors
- SGL Carbon SE
BATTERY CELLS & BATTERY PACKS
- Akasol
- BMZ - Batteriemontagezentrum
- Continental
- CustomCells
- E4V
- EAS Batteries
- EoCell Inc
- HE3DA
- KLIB
- Leclanché
- Liacon
- LION E-Mobility
- Litarion GmbH
- Northvolt
- Saft
- Sonnen GmbH
- Terra E
- Varta
- Atlas Copco
- BMW
- cyberGRID GmbH
- Daimler
- Edf
- Elring-Klinger
- Enel
- Fiat
- Husqvarna
- Jaguar-Landrover
- Manz
- Nissan (FR)
- PSA Groupe
- Renault
- Stihl
- Terna
- Total
- Vattenfall
- Volkswagen
- Volvo
RECYCLING / 2ND LIFE
- EBRA
- Solvay
- SUEZ
- Umicore
- Veolia
RESEARCH ORGANISATIONS & ASSOCIATIONS
- Akkurate OY
- ANIE
- Ångström Advanced Battery Centre
- CEA
- CEPS
- E4V
- EASE
- EIT Raw Materials
- EMIRI
- ENEA
- EUROBAT
- Fraunhofer
- RECHARGE
- SET Plan TWG 7
- T&E (Transport and Environment)
OTHER BATTERY INITIATIVES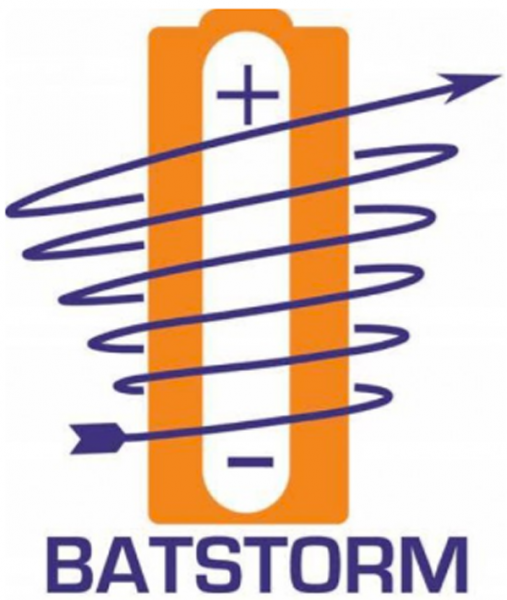 The Batstorm project supports the European Commission and the European Technology and Innovation Platform (ETIP) for Smart Grids and Storage in their progress to identify and support RTD&D needs and market uptake of battery based energy storage as one low-carbon technology of the future energy system.
Read more about their work here: